La caja de los juguetes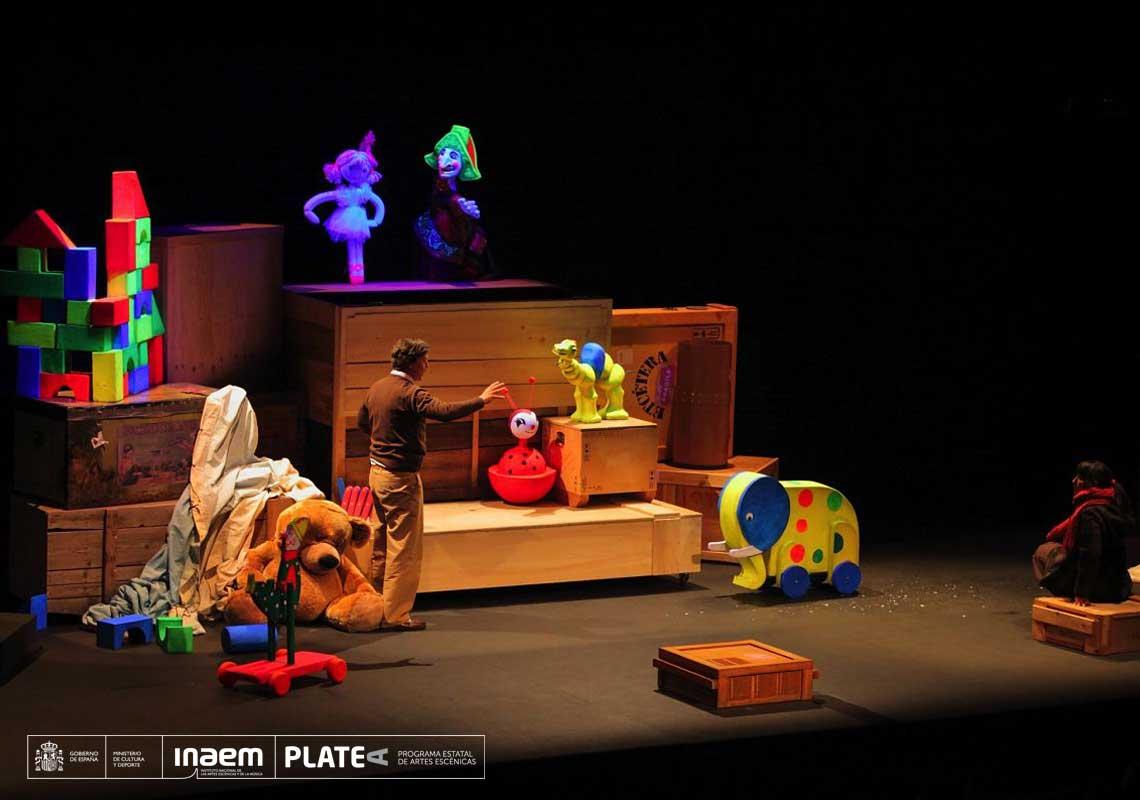 La caja de los juguetes és un conte musical ple de tendresa i humor, un espectacle que reivindica la importància del joc i es posiciona en temes d'igualtat de gèneres. Les caixes de joguets són com les ciutats i els qui viuen en elles senten i pateixen com les persones. Una nina de drap, ballarina, desperta a mitjanit i convida a ballar a tots els joguets que viuen amb ella dins de la caixa. Apareixen un os de peluix, un saltamartí, un batalló de soldadets, un elefant sobre rodes, un gos salsitxa, peces d'arquitectura, un cocodril? Entre tots ells la nina prefereix a Polichinela, el titella de guant popular, perquè és el millor ballarí. La nina i Polichinela es fan nuvis, però no aconsegueixen compartir els mateixos somnis ja que ell no la tracta correctament. Per a defensar a la nina, intervé un soldadet de fusta que sempre l'ha estimada de debò. Això desencadena una batalla entre joguets. Tots dos bàndols barallen amb daus, pilotes i boles de paper. Tot és un joc, però el soldadet acaba trencat i desfet. La nina l'ajuda, ho salva, i finalment entre ells sorgeix l'amor.
A partir de les obres musicals:
La Boîte a Joujoux de Claude Debussy i André Hellé
The Children's Corner i The Little Negro de Claude Debussy
Accedeix ací a la descàrrega del dossier de l'espectacle La caja de los juguetes.
Direcció d'escena, escenografia i títeres
Enrique Lanz

Actriu
Yanisbel Victoria Martínez

Araceli García
Laura Renieblas

---
Preus
---
+Gastos de gestión:
1€ online
En la compra de les entrades online el preu que apareixerà serà el preu final, incloses les despeses de gestió i aplicat el descompte de la promoció vigent en el moment per a cada funció. Comprove totes les seues dades abans de finalitzar la compra, perquè no podrem fer canvis ni devolucions una vegada realitzada la mateixa.
Descomptes
---
20% dte.
Carnet Jove, UPV i UV
20% dte.
Majors de 60 anys
20% dte.
Persones amb movilitat reduïda
20% dte.
Pack familiar (per la compra de 4 entrades)
10% dte.
Grups entre 11 i 20 persones
20% dte.
Grups a partir de 21 persones + 1 invitació (només en taquilla)
+info i reserves de grups: 96 158 10 77.

Aquests descomptes no són acumulables ni aplicables al costat d'altres promocions. Els mateixos s'apliquen sense tindre en compte les despeses de gestió per entrada, tant en la venda online com en taquilla. El descompte és vàlid per al titular del mateix i un acompanyant. El dret al descompte haurà d'acreditar-se a l'entrada de l'espectacle amb el carnet corresponent. En cas de no acreditar-se, haurà d'abonar-se la diferència en taquilla.
Altres propostes de l'Auditori de Torrent: